On Wednesday, I was honored to participate in the CGI America meeting in Denver in a panel moderated by Bloomberg Special Correspondent Willow Bay.  Other panelists were Former Treasury Secretary Robert Rubin and Jacqueline Hinman, president and CEO, CH2M Hill, a global engineering and manufacturing firm. The title of the discussion was: A New Competitive Era: America in the World.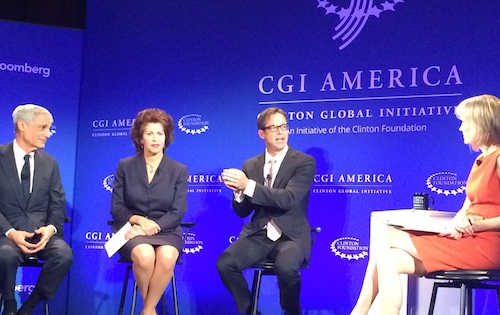 This was a stimulating hour as Willow navigated us through a range of topics about American competitiveness in the increasingly global economy. As the resident tech guy, I had some opinions about the lack of computer science training and programming being taught in U.S. schools. (I leaned on and promoted my friends at Code.org and their important efforts to push states and U.S. schools to include computer science as part of STEM [science, technology, engineering, and mathematics] curriculum.) What I think surprises most people is that only 1 in 10 U.S. schools offer computer science classes, and when they do it often doesn't count toward graduation. It's unbelievable really, especially since it's not news that we have a supply shortage in the area of computer science and engineering, impacting most tech companies.  This led to a discussion about the need for immigration reform to allow qualified workers into this country to fill these jobs, and help fuel even greater growth and innovation.  I've long supported the simple idea that we should staple a green card to every PhD earned in this country.
Geekwire's John Cook tuned in via webcast and captured some of the discussion in a post.
After our panel, former President Bill Clinton joined Willow for a one-on-one discussion.  I had a great vantage sitting in the front row watching one of the rhetorical masters of our time.
Front row is a nice seat. @Willow_Bay interviewing Prez Clinton on the world's least comfortable stools. pic.twitter.com/hB7eG5GQO7

— Rich Barton (@Rich_Barton) June 25, 2014
While this was my first exposure to CGI, I was impressed with the format and caliber of attendees, and the emphasis on commitments and follow up. After all, it's important to have these conversations, but it's more important to fix the problems and address the barriers that inhibit progress. I like the fact CGI is focused on being more than a forum, but a platform to create solutions across industries, and across the aisles. So far, it seems to be working.
The replay of the panel conversation can be found below: