I'd read that 18 million sexy and inexpensive Xiaomi Smartphones had shipped in China last year, the company's 3rd year in existence.  And, I'd heard about the MiTV, Xiaomi's smart TV that was shaking up the market in China.  Still, when Lei Jun, the Jobs-ian co-founder and spiritual leader of this Chinese manufacturing, design, and marketing phenomenon, slid me a gift — the Mi Charger, a sleek 10,400 mAh charger (4x faster charge than the closest US competitor — Mophie), I was smitten.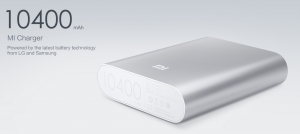 How could a phone charger elicit lust?  After returning from my China Week with the Benchmark Capital partners (including Bill Gurley, who authors a must-read blog called AboveTheCrowd), I gave the Mi Charger to my wife, Sarah, who is constantly, annoyingly short of battery on her iPhone.  Her reaction after an hour of use?  "This thing is amazing!  Suzie wants one, too.  Where can she buy it?"  Nowhere yet.  But I assume we'll have it in the US soon.  And if Xiaomi follows the China playbook, it will be shockingly inexpensive.
"What is different about Chinese Xiaomi vs Google, Apple, and other American tech companies?" we asked Hugo Barra, the new, intriguing Xiaomi VP swiped from Google in his prime, as we sipped Japanese whiskey at the mega-high style Opposite House hotel in Beijing last week.  Hugo said the Chinese simply work harder.  They are as smart and capable as their American counterparts, but the pain and shame of poverty and obscurity is much closer to them than it is to us.  When we left a meeting with Victor Koo, Chairman of  China's Youtube, Youku, at 7:00p on a Wednesday evening, we walked into a sea of cubicles.  Every one was occupied.  Some by napping engineers and editors. Evidently, this continues well into the night.  The Chinese work harder.  They are trying to make a much better life for themselves and their mothers.
The Chinese have great universities, loads of capital, and a government that supports and protects (to non-Chinese' great disadvantage) new company creation.  This has created a startup ecosystem that is thriving and dying to challenge the hegemony of the West in the decades to come. As Lei Jun gave me the Mi Charger and described his strategy, through a translator, he said:  "The revolution begins".
Related: I recently spoke on Bloomberg about the China startup environment, among other topics, with @ErikSchatzker & @SRuhle.